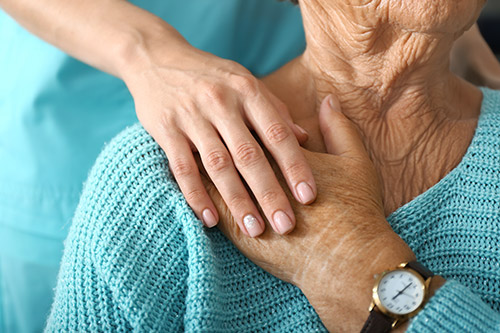 Prologue: All professional memory care and assisted living care providers like us here at Manor Lake BridgeMill understand and respect those of you who so lovingly carry the burden of care for your loved ones. Part of our community service campaign is to educate via this blog so that you can enjoy the maximum time at home with your loved ones. However, statistics show that unfortunately there will come a day when solo home care or professionally assisted home care is no longer enough. To every extent possible, we'll be here for you via this assisted living and memory care blog, week in, and week out with insights that hopefully helps ease your loving burden. When that burden becomes too heavy to bear, know that your friends here at Manor Lake BridgeMill Assisted Living & Memory Care are ready with open arms to provide the loving care necessary to deliver the quality of life that both you and your challenged loved one(s) deserve.
(Due credit for this blog post and its insights is provided to Ms. Carol Bursack, of agingcare.com. We think you'll value her work and insight as much as we do.)
Family caregivers are now better able to take advantage of services offered by home care companies. I certainly took advantage of these services throughout my time caring for multiple seniors, including my parents and an elderly neighbor.
The biggest challenge I faced, though, was when I hired professional caregivers for loved ones who had dementia. The caregivers were not always sure how to handle unusual behaviors associated with Alzheimer's or the tricky situations they created. Thankfully, due to increased awareness of the unique challenges that Alzheimer's disease and other forms of dementia present, reputable home care companies across the country are providing their employees with proper training in dementia care. Experienced and informed caregivers can provide benefits to both seniors and their family members that make in-home care well worth considering.
Dementia Care in a Familiar Environment
The biggest value that home care offers is that it allows elders to remain in their own homes for as long as possible. This option is far less disorienting for a dementia patient than a move to an assisted living facility, a memory care unit or a nursing home. Familiar environments offer a great deal of security and peace of mind for individuals with dementia. If a company's caregivers are well versed in dementia care, in-home care can be the ideal starting point for families who need extra help with their loved ones but want to prevent or delay placement in a long-term care facility.
Dementia Patients Benefit from Routines
Just as familiar surroundings are safe and soothing, the same can be said for daily routines. Maintaining a schedule like the one a senior followed pre-dementia can help reduce anxiety and confusion. For example, an elder who watched the nightly news after dinner each evening for years may feel a sense of normalcy when it's switched on, even if they don't completely understand what they are seeing and hearing.
A fundamental aspect of home care is that services are provided for all clients (with and without dementia) according to personalized scheduling tools called care plans. This organizational technique easily translates into a set routine for dementia patients who thrive on familiarity and repetition. Professional caregivers are trained to facilitate daily activities, including chores and personal care tasks, at the appropriate times and provide assistance as needed. Humans are creatures of habit and preserving these very personal and deeply ingrained routines can help elders retain a sense of control and understanding of what is going on around them.
Specialized Training in Dementia Care
Home care companies aid with activities of daily living (ADLs), companionship and many other core services. In addition, many companies offer professional training in dementia care for their employees. Common aspects of this training include methods for staying engaged with the senior, managing often unpredictable behaviors through validation and redirection, communicating effectively, and breaking down activities into smaller steps that are easier to manage. There are several training programs and schools of thought when it comes to dementia care, so be sure to inquire about the particular education a home care company provides to or requires of its caregivers.
Safety training is also part of professional caregivers' initial and ongoing education, since seniors with dementia may be prone to wandering and other risky behaviors. A 2013 study published in the Journal of the American Geriatrics Society found that 90 percent of community-residing persons with dementia had unmet safety needs, particularly for fall risk and wander risk management and home safety evaluations. Increased supervision and assistance from both informal and formal caregivers are crucial components in helping elders reduce safety risks while they continue living in their own homes.
Meaningful Activities for Dementia Patients
Knowledge of the clinical aspects of dementia allows professionals to better serve their clients and enrich their lives with social interactions and activities. Perceptive caregivers can provide a positive environment for dementia patients by learning about a senior's interests before they developed the disease and adapting the way they engage in these meaningful hobbies both in the home and in the community. For example, if golf is something an elder enjoyed, they may visit a golf course for a walk or to watch others play the game.
Sensory stimulation is another crucial component of dementia care, especially in the later stages of cognitive impairment. Studies show that participating in music therapy, dance or other creative outlets has a positive effect on mental health, physical health and social functioning in older adults. An experienced caregiver will work to engage clients in activities even as their interests and abilities change.
Care That Evolves with the Client
In-home care can be customized to provide as much or as little assistance as a family requires, and changes can be made as often as necessary. Services can be unskilled (companion care and homemaker services) or skilled (personal care and nursing care) in nature and can be provided occasionally for respite, on an around-the-clock basis or anywhere in between. This flexibility is a significant advantage for caregivers and seniors who are dealing with progressive diseases such as dementia. As a loved one's condition declines, professional caregivers offer the adaptability necessary in caring for an individual with Alzheimer's and related dementias.
When Home Care Is No Longer Enough
In-home services can help dementia patients delay the move to long-term care, but their growing needs will eventually necessitate higher levels of care and around-the-clock supervision. Without a robust team of informal caregivers to share the burden, it becomes necessary to look elsewhere for assistance. While it is possible to receive these services in the home, the cost of 24/7 home care is often too much for the average family to pay for privately over the long term.
The time for thinking about a move to assisted living, a memory care unit or a nursing home is different for everyone. The decision depends on whether family members and hired caregivers can continue to cope with changes in a senior's condition at home. A competent home care company will closely monitor their ability to provide the best care for their patients. Should a client's needs surpass what is noted in their current care plan, the company will let the family know that additional services or a change in setting is needed.
We hope you enjoyed, are encouraged, educated, and benefit from this and all our blogging efforts. When the time comes for you to seek a consult regarding how Manor Lake Assisted Living & Memory Care BridgeMill can improve the quality of both you and your loved one's lives, call us!