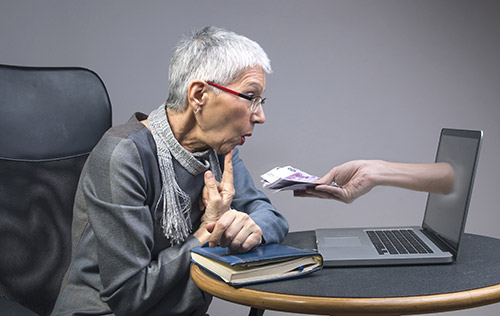 As always, welcome back to our senior living & memory care blog where it is our passion to assist our assisted living residents and family, our memory care residents and family, and of course to all of you at-home caregivers as well. In our previous senior living and memory care blog post, we discussed five things you at-home care givers can do to address stress. Today, we're going to stick with that same approach to offer five pieces of advice, but with a focus upon a completely different subject. Today's blog post is designed to help you avoid future stress altogether by helping protect your loved one (and likely you as well) from financial scam artists. Here are five tips to help keep you or your loved ones safe from financial exploitation.
Be Aware of Popular Types of Scams
Advance Fee Fraud or "419" Fraud – This scam is named after the portion of Nigerian criminal code it comes from and is a popular crime amongst West African organized crime networks. These scams provide various enticing reasons for victims to send money or personal information to the perpetrators.
Debt Relief Scam – There are unfortunately many unethical debt-relief companies in America who prey on seniors by charging exorbitant up-front fees for government programs that cost little to no money. These companies may also reroute money meant for creditors to themselves, leaving seniors in deeper financial debt than before.
Fictitious Relative – In this situation, the perpetrator contacts the victim, pretending to be a relative in distress.
Identity Theft – Using stolen pieces of information, a perpetrator will establish or takeover a victim's financial accounts.
Telemarketing or Charity Scam – These financial predators' prey on the fact that seniors are typically home during the day and vulnerable to loneliness. The victim is persuaded to donate to a fictitious charity or invest in a non-existent product or organization.
Unfortunately, these are just a few of the many financial scams that are used to entrap seniors. Always protect your personal and financial information and surround yourself with trusted people who you can contact if you're suspicious about a situation.
Know Their Financial Goals
It's important to have a conversation with your loved ones about financial goals for their later years prior to retirement and before they experience any changes in their mental processing or decision-making. Adult children should feel comfortable knowing their parent's wishes for their finances so that they can be prepared to take over if their elders can't manage their finances on their own.
This should be a conversation between multiple family members to ensure group accountability and to further protect seniors against financial abuse from family members. Sadly, most financial perpetrators aren't strangers. In a study of 4,156 older adults done by the National Center on Elder Abuse, 58% of financial perpetrators were family members.
Name Joint Agents
Naming multiple financial agents that must approve financial decisions before they are executed can make it more difficult for fraud or exploitation to occur. Instead of giving just one person the power of attorney, consider appointing this role to two individuals to better protect the financial assets of the elderly.
Keep Your Money in Your 401(k)
Even after retirement, consider keeping your money in your 401(k) and withdrawing only as needed. This will decrease its liquidity, making it more difficult for financial predators to access. It can also reduce costs because larger employers tend to manage their fund on a cost-basis rather than a for-profit basis. As well, employers are legally responsible to act in the best interest of their plan beneficiaries and participants.
Watch for the Warning Signs
Bills going unpaid, sudden changes to attorney or will, missing money, or activity on an account during a time your loved one wouldn't be active could all be warning signs that your loved one may be experiencing financial abuse. If you notice anything, report these signs to the proper authorities so they can further investigate.
We are so proud that our team of professionals at Manor Lake Assisted Living & Memory Care here in Canton goes the extra mile to make sure our seniors and memory care residents are safe. That's not just physically safe, but financially safe as well.