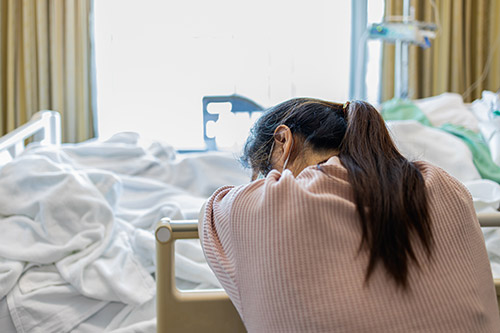 Hello and welcome back to our Manor Lake Assisted Living & Memory Care blog. Today's focus is fully upon all of you at-home care givers who looking for inspiration and strength to carry on in your assisted living care giving and/or your memory care support services. Family caregivers play a crucial part in keeping our families strong and healthy. More than 30 million Americans have reported caring for an elderly loved one in the past 12 months, and that number is expected to rise as our population grows and ages. We're here for you and today offer five ways that can help you cope and deliver even higher levels of loving care for a loved one.
Talk to Someone About Your Stress
When we take on the responsibility of caring for a loved one, we may feel confident that our duties are clear and that we can handle it all. As we continue to care for them and the stresses and anxieties build-up, though, we may isolate ourselves from our friends and family and feel trapped, potentially leading to anxiety disorders and depression.
Book a coffee date with someone you trust and take the time to express any anxieties or frustrations you may be feeling. This won't just help you relieve the stress that's been building up inside of you but will also let you know that you are not alone in this situation.
Bring in Other Family Members for Aid
It can be hard to ask for help from others when you're already a caretaker for a loved one, but if you have siblings, cousins, nieces, or nephews, you do have a whole network of family members who can alleviate some of the stress.
Even if it's just getting a cousin to take your loved one to their appointments, that's one less task for you to do and a chance to stop and calm your mind.
Take Time to Decompress
If you're taking care of a loved one, especially if they're living with you, it can be difficult to find a time in your day to step away from your responsibilities and take care of yourself.
Even if you take a moment to stand outside in the fresh air for 10 minutes and to take little breaks throughout the day to ground yourself and breathe. This will help you put everything in perspective and avoid emotional burnout.
Create a Schedule for Yourself
With all the tasks you might have to handle, including medication, medical appointments, and preparing healthy meals, it can be easy to be overwhelmed by everything around you. This is where a schedule can come in very handy.
Take care of yourself and your health by making time to get a proper amount of sleep every night, enjoy mealtimes to keep yourself fueled, and times when you can step away from your loved one to handle your own errands.
Understand Your Limitations
Many of us think that we must shoulder all the burdens associated with caring for a loved one. It's never a bad thing to be educated on your loved one's needs, but it can lead us to feel like we're not doing enough or, worst of all, failing to take care of our family members or friends.
You are doing a selfless thing by taking care of your loved one and you should be proud of that, but you should also realize that there is only so much you can do. Taking the time to understand this can help you relax and focus on the things you can do for your loved one, instead of the things you struggle with.
Manor Lake Assisted Living & Memory Care here in Canton does everything we can to make sure seniors and their families feel comfortable, happy, and at ease as a cherished member of our community. Give our team of senior care and memory care professionals a call today or schedule a tour anytime!