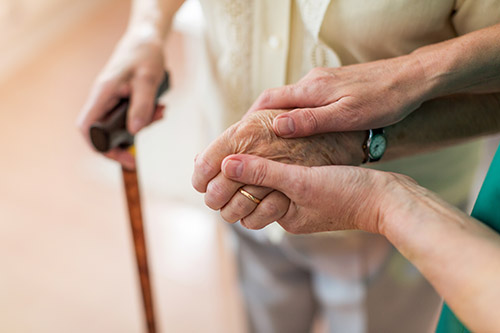 Welcome back to our blog page for our Canton-area assisted living and our Canton memory care community. This is the second blog post within our five-part series with each post focusing on a single indicator of signs that a transition to professional memory care will be in the best interest of your loved on.
Here are links to our prior posts as well as topic definitions for future posts on this subject:
Waning Participation in Assisted Living Lifestyle
Regular Confusion and Losing Track of Life Activities
Declining Positive Relationships with Caregivers, Other Seniors, and Staff
Declining Confidence and Happiness
Waning Participation in Assisted Living Lifestyle
One of the early signs that memory care may be necessary is whether your loved one is no longer an active part of the assisted living community. Assisted living is designed to give seniors as much independence as possible, only stepping in to provide care services and support when a senior needs assistance. Restaurant-style dining and housekeeping, for example, remove most of the constant physical strain from one's lifestyle, while community and social activities provide ample opportunity to socialize and stay engaged.
Have you noticed your loved one stop participating in community events? Do they no longer take advantage of meals in the dining room without prompting, or seem disinterested in activities? These changes may be a result of their dementia making these things more challenging. Memory care will help them by providing a more guided experience that ensures they are still finding enjoyment, getting enough to eat, and remaining appropriately stimulated.
If you find yourself providing more special care than you expected, or if your loved one is always in need of familiar companionship, this is another sign that a transition to memory care may be approaching. Assisted living is a living option meant to allow friends and family respite from constant care, yet the freedom to visit and socialize whenever they can. However, families starting to find that assisted living does not provide the care needs or depth of support needed by a loved one due to dementia should consider memory care as the next step. Your loved one may begin calling more frequently, asking you to stay longer, or just needing more during your visits.
Memory care is designed to help seniors not only live comfortably but also experience their senior living in a more guided and supported way. This includes helping them avoid overstimulation and situations that they have come to find upsetting, helping them to feel supported and safe, and helping loved ones to keep their visits more fun.
We understand these are difficult and frightening subjects to consider. With that said, here at Canton's Manor Lake Assisted Living and Memory Care, we are highly trained and skilled subject matter experts on the two subjects. And we can help you whether you are a resident, resident family member, or a non-associated care giver simply doing their best to serve another. We salute you and want you to know that we are always open and ready to talk.