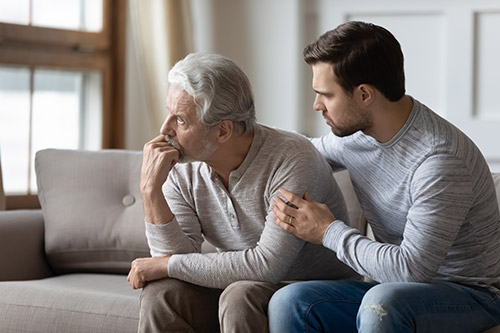 Welcome back to our blog page for our Canton-area assisted living and our Canton memory care community. We hope you had a loving and memorable Memorial Day Holiday. We are certain that those who invested the ultimate sacrifice look down upon us in celebration of the enabling role that they played in securing our freedom. We hope your Holiday weekend was truly rewarding.
This is going to be a very busy week for us here at Manor Lake Assisted Living and Memory Care because, well, the week after Memorial Day always is. From experience, we know that in the days after an extended Holiday break, families across the nation reflect upon the extended time with their senior loved ones and the new concerning observations about their mental acuity. Our phones will ring all week with voices on the other end asking variations of the same question: "When is the right time to move from assisted living to memory care"?
This question is one that is both foundationally important and very difficult to answer due to the unique personal variables involved. So, given the public's high focus upon this question, we thought we'd cover the next few blog posts on individual discussion items regarding how to determine when your loved one have become strong candidates for professional memory care.
In our next blog post, we'll continue upon this same subject but specialize upon a few factors that directly relate to indicators regarding when a transition from assisted living to memory care living should strongly be considered. Just for your reference, here are the future subjects and back-links to them once posted:
Assessing Indicators (Topic Introduction Blog Post)
Waning Participation in Assisted Living Lifestyle
Regular Confusion and Losing Track of Life Activities
Declining Positive Relationships with Caregivers, Other Seniors, and Staff
Declining Confidence and Happiness
When is the right time to move from assisted living to memory care?
The answer is, it depends. Everyone experiences dementia differently. Some loved ones can fully and comfortably live out their diagnosis in an assisted living community, even as they progress through the early stages of dementia. However, as the stages of Alzheimer's progress, a better quality of life may necessitate moving your loved one from assisted living to a memory care community. That decision can be difficult, especially because you must make it on behalf of your loved one. And it may be even harder if they believe they're doing just fine at home with you or within their existing assisted living community. But transitioning to a memory care community can offer significant benefits and safety that often improve the quality of life for a loved one affected by dementia.
Memory care is a special variation of assisted living designed to provide a greater level of care for seniors living with some form of dementia. Since assisted living and memory care communities are similar, seniors transitioning from independent living to memory care still have the benefit of a senior living community, activities, 24-hour full-time staff members, meals, and assistance with activities of daily living. But the environment, care options, and lifestyle provided are carefully shaped to help seniors living with a memory loss disease, like Alzheimer's disease. These aspects help seniors by reducing confusion, keeping them engaged, and encouraging a life filled with happy moments, all while remaining safe. The transition from assisted living to memory care is generally the easiest when transitioning within communities offering both assisted living and memory care.
We understand these are difficult and frightening subjects to consider. With that said, here at Canton's Manor Lake Assisted Living and Memory Care, we are highly trained and skilled subject matter experts on the two subjects. And we can help you whether you are a resident, resident family member, or a non-associated care giver simply doing their best to serve another. We salute you and want you to know that we are always open and ready to talk.