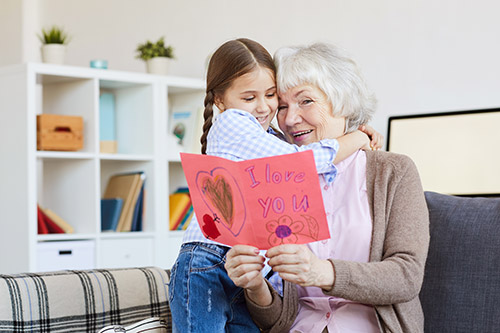 Valentine's Day reserves special space in the hearts of many of the assisted living and/or memory care loved one's that we support. Professional assisted living caregivers such as us here at Canton's Manor Lake BridgeMill have long recognized that this Holiday can become a solemn one for many of our loved ones if the Holiday is ignored by caregivers. The reason is completely understandable when cherished Valentine's Day memories of a deceased spouse often turn to solemn reflection.
Valentine's Day is a perfect occasion to show the special people in your life just how much you care. Whether your Valentine's Day plans include celebrating Valentine's Day there at home or while visiting your aging parent or loved one residing within a professional assisted living community like Canton's Manor Lake, try out some of these ideas to celebrate the holiday:
Research a Special Valentine's Day Memory
Search your photo archives of Valentine's Day memories of both your loved one and their loving spouse who has passed. Your time and effort will bring joy to them and to you as well. Do this early in the day so that you both can move on to other activities that are likely to bring smiles to their face. The goal is to maximize positive moments at the expense of solemn reflection.
Spread the love
The "day of love" gives us all an excuse to spoil our loved ones and spread some cheer with a thoughtful gift. While the traditional Valentine's Day presents of flowers and chocolates are always a hit, some other gift ideas for the senior in your life include things like cozy socks, a no-fuss houseplant, framed photographs or even a gift card to their favorite restaurant. At the end of the day, the best gift you can give your loved one is the gift of your time and presence.
Create DIY Valentines
Crafting is a fun activity that people of all ages enjoy. For senior adults, arts and crafts can be particularly helpful in improving hand-eye coordination and keeping their cognitive skills sharp. When you visit your older loved one in assisted living, bring along supplies to make handmade Valentine's Day cards for friends, family members, and the caregivers at the assisted living community. Making a craft together is also a great way to keep grandchildren involved and ensure they have a lasting memory of the visit.
Take a trip down memory lane
Valentine's Day is a wonderful opportunity to share fond memories and stories with our older loved ones. Learning about an older family member's life and experiences firsthand is not only a powerful way to connect, but it also helps us understand who we are and where we came from. Once again, try looking at favorite family photos and letters or listening to familiar music to spark memories and prompt meaningful conversations about the past.
Here at Manor Lake BridgeMill, we encourage you to celebrate Valentine's Day with your aging parent or loved one, whether they still live at home or within a professional assisted living community. Simply visiting your loved one and spending quality time with them is the best way to demonstrate your appreciation and make the holiday one to remember. Happy Valentine's Day from all of us here at Canton's Manor Lake BridgeMill Assisted Living & Memory Care!