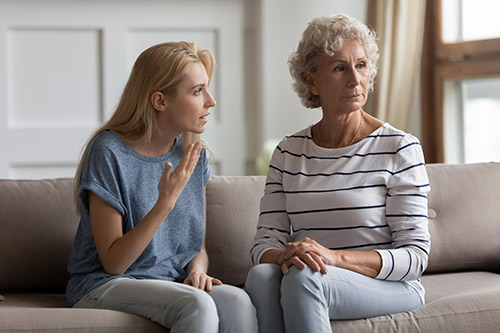 Hello everyone from your friends and neighbors here at Canton's Manor Lake Assisted Living and Memory Care. If you're struggling with aging parents who refuse your best efforts to help, you're far from alone: A whopping 77% of adult children believe their parents are stubborn about taking their advice or getting help with daily tasks.
None of the things we offer here will be viewed as earth-shattering new discovery, but sometimes we all need a gentle reminder of smart habits that can get clouded in the storm of frustration.
Seek first to listen and understand


Try to understand the motivation behind their behavior


Accept the situation


Choose your battles


Don't beat yourself up


Treat your aging parents like adults


Ask them to do it for the kids (or grandkids)


Find an outlet for your feelings


Plan ahead- and talk about those plans


As providers of professional assisted living services or professional memory care services, we are your biggest fans. We know your challenges, your frustrations, and of course the comfort and rewards for the loving care that you provide. May strength, patience, and happiness find you all!