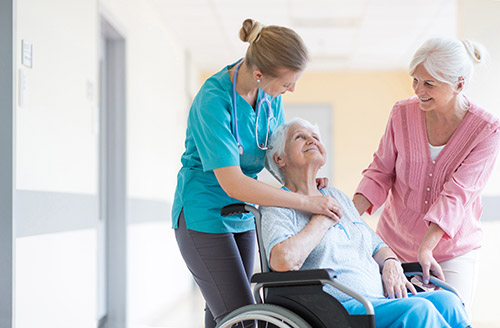 In the months leading up to a senior loved one's transition to an assisted living community like ours here at Manor Lake Assisted Living & Memory Care Canton, family members are busy (often overwhelmed) juggling all of the details of the move. From helping your loved one to downsize and sell their home to figuring out a floor plan for their new suite or villa, the busy days often leave little time for much else.
Once your family elder has made the move, you may find yourself coping with a range of emotions. Guilt, worry, and sadness are common. Your role has changed in your family member's life and that will be an adjustment. You might also be asking yourself what comes next. How can you stay connected to your loved one, while also giving them the space needed to get involved at the assisted living community?
Today we offer three simple suggestions that you we're certain will help you with the transition.
1. Create a visitor's calendar: After your relative is unpacked and settled, work with them to set up a schedule for visitors. Having people drop in during the first month or so following the move enables your loved one to have company on a consistent basis. Setting up a calendar can help to avoid prolonged periods of time where no one stops by. Planning visits can also give the older adult something to look forward to as they adjust to their new surroundings. Be sure to include extended family members and people your loved one is close to in these plans. Encourage visitors to ask the senior to show them around and introduce them to fellow residents and staff they've met.
2. Participate in resident activities: We take a holistic approach to wellness by offering residents an opportunity to participate in activities that nurture the mind, body, and spirit. There are events and activities designed to appeal to every hobby and interest. Sit down and review the current month's calendar together. If your loved one is reluctant to take part in activities on their own, it may help to have you and other family members participate, too. At least until they've met some new friends and are comfortable attending alone.
3. Get to know the staff and some of our residents here at Manor Lake Assisted Living & Memory Care: When you've been intimately involved in an elder's care, it can be tough to turn those tasks over to someone else after they move. You may worry if the senior will get the attention they need. It will likely give you peace of mind if you get to know your assisted living team here in Hiram. We're here to care for you as well with a wealth of knowledge that is certain to give you peace.
Call us anytime as we're here for you!