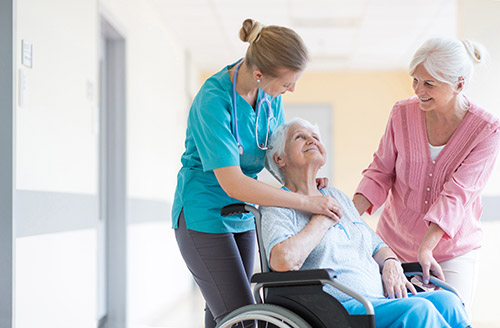 Helping your parent or a loved one make the move to professional assisted living care here in Canton or professional memory care here in Canton can be overwhelming for all involved. However, there are steps you can take to make the transition as easy and comfortable as possible. The key is thinking ahead and taking a little extra time to plan. Here are five essential tips to keep in mind as you prepare.
1. Plan Ahead
Once a community is selected, it's time to create a road map for the move itself, including what items will be stored or sold and identifying logistics and costs for moving day. Gather important personal information such as Social Security and Medicare information and legal and financial records, so that all critical information is at your fingertips. If you have time, it's also a good idea to schedule visits to the community with your loved one in advance of the move so that their new home starts to become familiar and comfortable even before they move in. Schedule a lunch or check out the community's daily calendar for special programs or events to help break the ice and get to know residents and staff members.
2. Communicate Thoughtfully
During all that has to be done, keep in mind that this is a big change for your parent or loved one. Approach the discussion with dignity and respect, and with the understanding that your loved one will be a primary decision maker during this transition. Read the signs and ask thoughtful questions to explore concerns or fears that may lead to a larger and more honest discussion. If your loved one is asking pointed questions, then find out what the underlying concern may be. Gently enter the discussion so that you can discover how best to provide support in a way that is comfortable for them.
3. Identify What's Essential
Sorting through treasured items can be a serious undertaking. As you go through a lifetime of belongings, we recommend familiarizing yourself with their new accommodations. You'll want to pack the essentials, but also look for ways to make their new space feel like home. Help your loved one identify some key items that are emotionally significant to them, like a favorite art piece, family photos, or a treasured keepsake. Carefully consider which rooms your family member regularly occupies and the items they touch most to gauge what their needs will be in their new place. For example, if they are no longer entertaining regularly in their home, then they can probably leave the china cabinet behind, but may want to bring a favorite teapot or coffee mugs for cozier encounters. Most importantly, include your loved one during each step of the process – choosing things for the new place will help them feel more at home when they arrive.
4. Make it a Family Affair
Any move can be difficult, especially if you are managing it by yourself. Gather a support team of family and friends. If someone offers to help, let them! Identify a team leader and key decision maker, then delegate tasks such as canceling utilities, scheduling movers and packing boxes. If you find yourself in a bind, don't hesitate to talk with the staff at the community – they've helped lots of families in the same situation and can offer advice and support, along with helpful resources for the big move.
5. Give Them Space
Although it is important to support your loved one through this significant transition, it is equally important to give them time and space to adjust to their lifestyle change. Independent living can offer seniors more opportunities to remain self-sufficient by providing services like transportation, an on-site fitness center and salon, daily social activities and delicious dining options. Assisted living provides the added security of licensed nurses and a well-trained staff around the clock, while also helping your loved one to be more socially active by offering activities and outings that may not have been available to them at home. Here at Manor Lake Assisted Living & Memory Care (Canton), we ask families to provide a life story upon move-in so that we can get to know new residents and their interests more quickly and introduce them to activities and people they might enjoy. Our team can offer guidance to help you find the right balance of support and independence for your loved one at their new community.
If you have specific questions or need help in planning your loved one's move, get in touch with a member of our highly trained staff for more information on how to prepare your loved one for their new home.