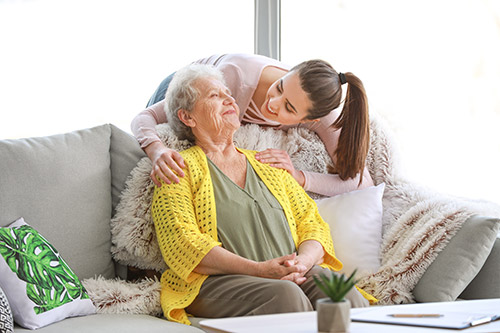 Greetings once again to all of our Canton-area assisted living and our Canton memory care community residents, family, neighbors, and friends. Today we're going to share with you today some simple things you can do to brighten your senior's day. It doesn't take much to make a big difference in other's lives. When you think you need to do something more than a simple phone call, here's a list of things to consider. When you do these things, don't be surprised if you are more rewarded than they are.
Send them a handwritten note or card
Do you remember the last time you received a hand-written note or card from someone in your life that you love? Seniors are from a generation where stationary and cards were a normal part of life, one that seems almost lost today. Write them a card and see how much it brightens their day.


Cook them their favorite meal
If you don't already know, ask your senior what their favorite meal is and cook it for them. Set the table like it's a special event and bring out the good china too. If your senior has caregivers, invite them to share in this meal as well as a thank you for what they do too.


Include them in family photos
Let your senior know how social they are by inviting them to be included in your family photos this year. Let Mom or Dad get dressed up and sit them front and center to honor their position as the head of the family. They will appreciate being thought of and included and you will have pictures to treasure forever.


Ask them about their past
Many seniors love recounting their youth and telling stories about their lives once lived and the children they raised that are now grown. Spend time with your senior with no other agenda other than listening to them and learning about their past, which is your past, too.


Tell them how much they mean to you
Take the time while you have it to tell your senior parent or loved one just how much they mean to you. Don't wait until it's too late, tell them now how much you love them and care for them.


Spend a day with them
Clear your schedule and spend the day with your senior doing something special with just the two of you. Ask them what they want to do and spend a leisurely day just being together.


Bake with them
Baking treats such as cakes, pies, or cookies is a great way to make your senior smile and bond with them as you make special memories and enjoy recipes that will always make you think of the time you spent with them.


Help them with a chore
Seniors often struggle to keep up with the things around the house that they need to do, especially those that require the help from caregivers as they may have mobility issues preventing them from cleaning, etc. Find out what would help them and take some time to assist them at home.


Call them out of the blue
There's nothing better than a surprise phone call out of the blue from someone you love who just calls to see how you are and talk to you. When was the last time you called your senior just to talk? Give them a call today and see how much it brightens their day, or maybe even their week!


Seniors need and deserve your special attention. And again, by given them special attention, you will be rewarded immensely as well. To learn about our approach to professional assisted living and professional memory care services, call us anytime!