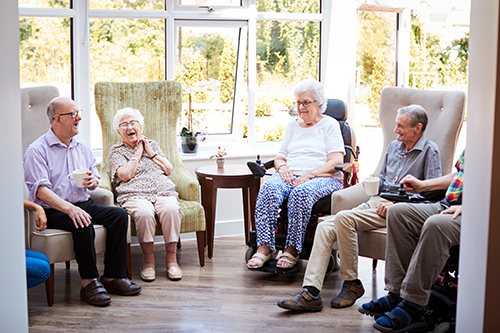 Welcome back to our Canton-area assisted living and memory care blog here at Manor Lake. There is so much to celebrate as a resident or family member here. Today, we're going to focus upon a benefit here that our residents and resident family alike don't truly appreciate until sometime after moving in. We facilitate an active and vibrant social environment worthy of celebration.
An active social life isn't just for young people. It can be argued that seniors benefit more from active social lives as do younger people.
Human beings are social creatures. Socialization is vital to survival. Life's demands upon the young adults drive them naturally (willingly or unwillingly) into active social lives. Professional lives and raising children often produce plenty of social integration. But when seniors have moved on from employment and raising children, continued social interaction is key to both physical and mental wellbeing.
As we age, we tend to experience more life changes. One of the biggest is the loss of those around us. Physical limitations can make it difficult to expand our social circle. While loved ones grow older and pass away, many seniors find it challenging to meet new people and remain socially active.
If you or someone you love is a senior, it's important to be proactive about being social. Find opportunities to meet people and connect with friends. Whether it's in person or online, interactions can help us live happier, longer lives.
Why is an active social life an essential part of healthy aging? Social Seniors Tend to Be Mentally Healthier.
One of the many benefits of moving into our Canton assisted living community and our Canton memory care community is our committed focus upon encouraging and enabling a robust social environment. We strongly believe that seniors have earned the right to relax and share and celebrate their golden years within a loving community of their peers.
Come visit us here at Canton's Manor Lakes Assisted Living and Memory Care and personally experience our active and loving social environment.