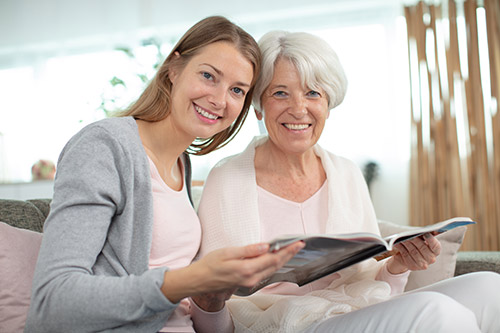 Many older adults plan to age independently but are ultimately forced to make decisions about their care as their health and physical independence decline. According to the Pew Research Center, nearly 12 million Americans over the age of 65 live alone. At some point, together with their aging parents, adult children must decide whether to bring in outside care, rely on a family member or investigate assisted living. Our senior assisted living community is designed for older adults who need additional support in their day-to-day lives. This often includes bathing, housekeeping, preparing meals, managing medications, and assistance with transportation and medical appointments. For many adult children, assisted living placement can evoke feelings of shame, apprehension, and guilt. However, these feelings are common and can be dealt with in positive ways.
Dealing with Guilt Over Assisted Living Placement
Choosing to move your loved one into an assisted living community can be one of the hardest decisions to make for your parents. Whether you're a caregiver who needs additional support, lives long-distance, or is an adult child managing your own life, choosing an assisted living community does not equate to failure. Many family members may experience feelings of guilt and sadness, but also a relief. Working through these feelings can help you feel more confident about the decision and focus on your loved one's care without feeling guilty. Here are a few ways to cope with this unfounded guilt:
Understand you did not cause the illness. If your loved one is dealing with a progressive condition such as Alzheimer's disease or Parkinson's or is declining physically, they would still have to deal with their declining health even if you were able to care for them at home. Moving your loved one into our memory care community doesn't mean you've failed to take care of them. It means they're getting the care they need to live a life of dignity while receiving high-quality health care in a safe environment.
Acknowledge your efforts. Being a primary caregiver for a parent is a huge undertaking. Making decisions in situations you've never encountered before can make you feel like every decision made is a bad one. However, it's important to acknowledge your efforts and understand you're doing the best you can in a difficult and emotional situation.
Assess your options. Most older adults are resistant to the idea of transitioning into assisted living communities. However, assisted living offers high-quality support to both older adults and their family members. Doing your research, touring facilities, and asking important questions can leave you feeling more confident about the facility you've chosen. This is important and we point this out in confidence that the more you learn about your options, the more you'll come to value our service offerings here at Manor Lake Assisted Living and Memory Care.