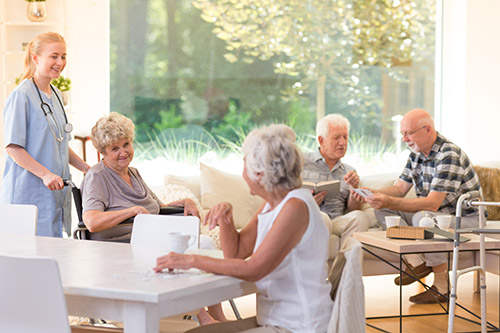 New Year's Greetings from all of us here at Canton's Manor Lake Assisted Living and Memory Care! We are now a couple of days into the calendar year 2022. Many of us authored our traditional "New Year's Resolutions" and are working through the details of strategic self-improvement. But if you provide daily assistance to a senior loved one, then we warmly suggest that you include delivering "improved health" to your senior loved one.
Like so many of you loving family members out there caring for a loved one, you might assume that professional assisted living is a last resort for an aging loved one. But is that really the case? Many people simply have the wrong idea about what assisted living is and what it offers.
It's easy to overlook just how beneficial assisted living can be, but the more you investigate a quality assisted living community, you will start to understand why seniors tend to actually be healthier (mentally and physically) at assisted living.
We outline just a few of the reasons why this could very well be the case, and why you should sit down and discuss the professional senior assisted living option with an aging parent or other loved one.
Reason #1: Seniors have opportunities to stay engaged.
In life, that is. Being withdrawn, wanting to give up, or hiding out in your room isn't going to offer a great emotional benefit. But having friends, staff, and others enticing you to get out and connect on a personal level and taking part in various entertainment options or activities is a wonderful way to help someone stay (and feel) more connected. That connection taps into our nature, our human nature. We were designed to be with others and when we have that engagement with others, it can lift us up emotionally, which has a direct impact on our physical wellness, too.
Reason #2: Better dining options.
Not all assisted living communities are the same, so it's important not to conflate one with others. The average assisted living community will have decent dining options for elderly residents, but here at Manor Lake we offer an outstanding (even celebrated) dining experience!
This is directly linked to high quality healthy food choices which tends to improve overall health. While a senior may not eat healthy at home, especially when living alone, we ensure that they enjoy healthy meals for breakfast, lunch, and dinner.
Reason #3: Exercise options.
Again, not all assisted living communities offer the same benefits, but there is somewhere safe that elderly residents can get some much-needed exercise. Just walking down a broad corridor with hand rails or strolling along carefully manicured and maintained grounds can offer wonderful exercise options.
In short, professional assisted living offers many options that can help seniors be healthier, but you and they must take that first step and look into it for yourselves. Contact us here at Canton's Manor Lake Assisted Living and Memory Care to learn more.