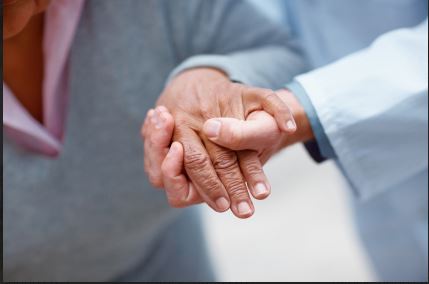 Hello dear residents, resident's family, and the entire local community who are soldiering through the dedicated and blessed love in providing in-home assisted living services or memory care services. Today we share a story from one of your fellow Canton-area Manor Lake Assisted Living and Memory Care blog readers about an interaction at church on Sunday with a memory-challenged person she'd never met before.
I sat next to this nice man who introduced me to his wife and aged mother. I am relatively new to the church and shortly after our introduction, service started. I made it a point after service to communicate how nice it was to meet them. I made a special effort to grab that senior's hand, (shame on me for forgetting their names), bending down, looking into her eyes, and saying, "It was very nice to meet you". Her response caught me off guard.
She responded, "It was very nice meeting you too, but I am sorry that I likely won't remember you come next Sunday". Momentarily at a loss for words, I simply offered this: "Well, I look forward to meeting you again next Sunday, for the first time". She smiled an honest smile and offered: "Yes, I look forward to that".
What a special moment and a special life-lesson from such a beautiful soul who knows exactly where she is….and where she isn't. We remind you all that the blessings of your care to others is neither buried nor hard to find. There right there on the surface and we simply need to acknowledge them and celebrate them.