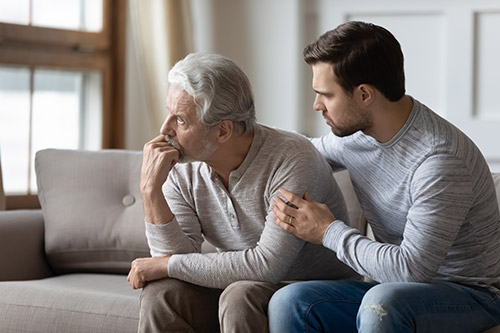 Hello dear residents, resident's family, and the entire local community who are struggling through providing in-home assisted living or memory care services. This goes out to you whether you are or are not actively searching for professional care services in and around Canton. As professional assisted living and memory care providers, we field countless calls every week from people just like you who sometimes find it overwhelming to care for a loved one in need. Know that you are not alone! Those of you who follow our assisted living and memory care blog know that we invest in all of you by offering the lessons learned of our entire highly trained, skilled, and loving staff.
One of THE most common concerns we hear from people just like you is the comment, "This is all so overwhelming. I'm not sure what to do". We've decided to not overload you here via a lengthy dissertation, rather, we're going to begin today with the start of a short eight-part series to help you determine your future life care path for your aging parents. The eight-part series will consist of the following topics:
Open the Communication Channels
Determine your Budget
Understand your Parent's Needs and Issues
Know your Own Limitation
Research Well
Evaluate the Options
Take a Personal Tour
Prepare for a safe Transition
So, let's get started by "Opening the Communication Channels".
Open the Communication Channels
Your aging parents may consider themselves to be independent so you may face resistance to the suggestion of an assisted living community. You need to understand their needs and convey the situation in the best way possible.
Communication is of utmost importance to help aging parents understand
Assisted Living is not isolation
Assisted Living is a combination of being independent as well as having skilled medical workforces
They have complete independence with support
Assisted living offers a wonderful peace of mind
You can always meet each other anytime at the assisted living facility. When aging parents realize that assisted living is not like being in a nursing home, and their freedom would not be impaired, it brings a massive change in perspective. Personal conversations help in assuring parents assisted living is the right step towards maintaining their health and social activities. Assisted living is a wonderful choice you can make for aging parents who are not capable of living on their own and managing a healthy lifestyle without constant support. Early planning is necessary to begin finding assisted living for parents.
We hope you benefit, are encouraged, educated, and enjoy our blogging efforts. When the time comes for you to seek a consult regarding caring for your loved one's professional assisted living or professional memory care services, please know that Manor Lake Assisted Living & Memory Care Canton stands ready to improve the quality of both you and your loved one's lives. Call us!