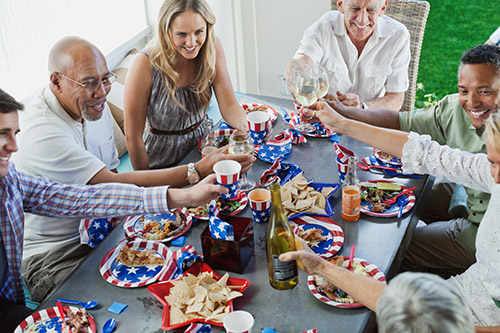 The 4th of July is a very special day on the American calendar. As such, there is no reason that anyone who wants to celebrate it should be prevented from doing so. Here at Canton's Manor Lake Assisted Living and Memory Care, we work hard to make sure that this extends to all our cherished residents. For you caregivers at home, sometimes figuring out how to make it fun for your assisted living or memory care loved one can be hard. Here we look at some ways of facilitating that.
There are two categories for holiday activities: a) those that take place outdoors and b) those that take place indoors.
Outdoor activities
For those who enjoy the outdoors, remember the following:
Make sure there is always enough shade and a comfortable place to sit.
Keep everybody, especially the elderly, always hydrated, and encourage frequent bathroom breaks.
Keep the time at any activity to a minimum, especially for those with degenerative diseases such as Alzheimer's, as agitation is common.
Indoor activities
For those who would rather stay indoors, consider these activities:
Karaoke is always a good time, especially with oldies songs that they really love. Karaoke is really something in which all generations can participate, and if you have some patriotic American songs available, then it can be very appropriate for the day.
Watch an old American movie. Bonus points for a movie that is popular with the elderly.
If they are still able to help in the kitchen, make American-themed family favorites together.
Play board games, card games, and other low-key games.
We hope you enjoy a safe and fulfilling 4th of July celebration with your entire family. Seniors need and deserve your special attention, especially around holidays. By giving them special attention during this year's fourth of July celebrations, you will be rewarded immensely as well. To learn about our approach to professional assisted living and professional memory care services, call us anytime!