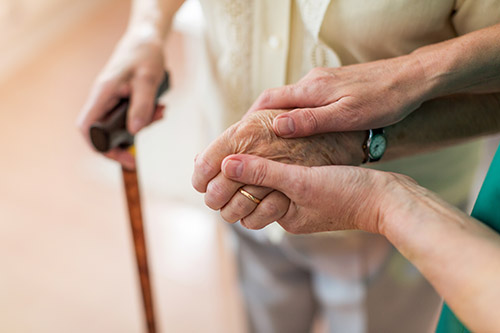 It comes as no surprise to us that our most frequently asked question from those researching professional assisted living options here in Canton is, "What Exactly is Assisted Living". The reason is simple this question is asked so often. It is because assisted living has no single definition. It differs from community to community, state to state, family to family. So today, we're going to share with you the way we answer this frequently asked question.
Here's how we define it. Assisted living is "a combining of housing, personalized supportive services and health care designed to meet the individual needs of persons who need help with the activities of daily living, but do not need the skilled medical care provided in a nursing home."
This level of care can cover a wide variety of resident needs, including dressing, bathing, using the bathroom, eating, mobility, and getting in and out of bed. While assisted living is a healthcare-type environment, assisted living is different than a nursing home. Typical assisted living residents are able to live independently for some or most daily activities, and simply require help for certain non-medical issues.
Assisted living communities go by many names, including adult congregate living facilities, rest homes, homes for the aging, personal care homes, residential care, retirement homes, retirement communities, adult foster care, and community residences, but they all point to the same type of care provided.
Those residents who require more intensive care or medical supervision (such as our dear residents within our memory care community) are typically not residents of assisted living facilities, but rather find better-suited care in a nursing home or more medically oriented facility.
Choosing an assisted living community for your loved one is never an easy choice, and you should be very comfortable with the level of care provided by the community. At the very least, assisted living facilities should offer the following services:
Medication management
Daily living assistance (bathing, eating, dressing, etc.)
Educational activities
Dining
Basic health and wellness services and programs
Emergency call systems
Housekeeping and maintenance
Organized recreational and exercise activities
Laundry services
Religious activities
Transportation arrangements
24-hour security
Assisted living is meant to provide your loved one with the care they need to live happy and healthy in a supportive environment. If you have any questions about the services we provide here at Canton's Manor Lake Assisted Living and Memory Care, please do not hesitate to contact us. We will be happy to answer your questions and give you a tour of our community.