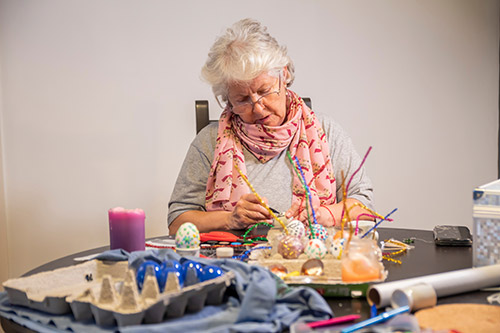 On Easter, people of all ages spend time with their loved ones and celebrate spring. For many older adults, this holiday brings back wonderful memories of their childhood. It is also a great time to involve seniors with dementia in some exciting activities. If your elderly loved one has been diagnosed with dementia, know that all of us here at Manor Lake Assisted Living & Memory Care here in Canton send our deepest respect and send our best wishes for strength, wisdom, love, and peace.
One way we do this is by managing this senior living and memory care blog on the behalf of people just like you. All of us have deep passion for caring for our seniors and those requiring memory care. That is the sole reason we choose senior care as our full-time profession.
Easter season is a particularly beautiful period here at Manor Lake for all the same reasons it's likely one of yours as well. But it is particularly heartwarming because the entire community rallies around our dear memory care residents in thoughtful and selfless ways. When we see our dear senior assisted living residents rallying around their memory care friends, it is truly a site to behold.
So, today we simply offer some ideas for you to chew on and possibly adapt to help make your memory care loved one's life just a tad bit brighter.
1. Paint Surprise Eggs
The multiple steps involved in dyeing Easter eggs can be difficult for seniors with dementia. However, they can still have fun decorating the eggs with a little prep work from their caregivers. Before starting the activity, use a white crayon to draw fun shapes on eggs, such as bunnies and butterflies. Give your loved one some watercolors and encourage him or her to paint the eggs. The white crayon will resist the paint and the image will be revealed to your loved one.
2. Start A Windowsill Garden
For many seniors, Easter is about the new life that begins in spring, and growing a small garden is a wonderful way to celebrate the season. Help your loved one plant a small windowsill herb garden. This activity can be stimulating for seniors at various levels, beginning with your loved one watering the plants each day and eventually tasting the delicious results of his or her efforts.
3. Create Lavender Sachets
Scents can stimulate memory in seniors with dementia, and lavender can help soothe anxiety. Help your loved one make a lavender sachet by providing small, colorful fabric pouches he or she can fill with lavender seeds. Once your loved one has filled the pouch, help seal it by either sewing or gluing the edges shut. Encourage your loved one to find a special drawer for the sachet so he or she can enjoy a lovely burst of scent while getting dressed.
4. Help With An Egg Hunt
Seniors with dementia can even participate in the main Easter event by stuffing and hiding the eggs. Set out plastic eggs and trinkets, and let your loved one stuff them. Help him or her hide the eggs before the hunt, and keep track of the number of eggs you lay out. Your senior loved one is likely to get a thrill out of watching younger family members searching for the hidden eggs.
Involving your loved one in these activities can enhance his or her physical and emotional wellbeing. However, sometimes family caregivers find it challenging to support their loved ones and involve them in family events, because of other pressing commitments. Caring for a senior loved one can be overwhelming at times, which puts family caregivers at risk for burnout. However, professional senior living and memory care services will empower you to focus not only on them, but to empower you to focus on your own health, maintain a full-time job, care for other needy members of your family, and a host of other reasons.
5. Make Easter Cards
Thinking about loved ones and practicing writing can help bolster a senior's memory. Set out different colored pieces of paper, markers, and spring-themed stickers, and encourage your loved one to get creative. Once the cards are made, help your loved one mail them to the recipients. He or she can also deliver the cards by hand at an Easter family event. Either way, your loved one may feel a sense of purpose by bringing joy to someone else this spring season.
If you are the primary assisted living or memory care service provider and need ideas and assistance of any kind, know that we're here for you. Contact us anytime!