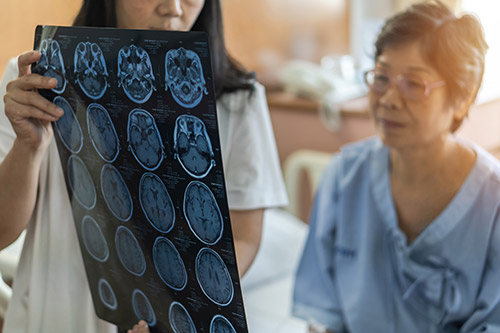 As promised, today we follow last week's blog post with some guidance for those of you who feel some form of formal cognitive evaluation is required for you or a family member. But first, once again warm winter greetings to you, our faithful assisted living and memory care blog readers, cherished assisted living residents, memory care residents, family members. And for the record, we send a special shout-out to all of you angels out there providing at-home care to a senior loved one in need.
Diagnosing Alzheimer's Disease
The diagnosis of Alzheimer's can be done through an entire set of tools that are specifically designed to determine and detect dementia and to figure out whether the cause of it is Alzheimer's or not.
To start with, it is highly essential to self-assess the symptoms first hand while encountering this disease. These assessments can be specifically noted as well as reported by a close family member as well who deals with the patient daily.
A person can easily perform the basic physical tests at home to see whether the response of their mind towards different tasks is effective or not. Apart from this, there are many tests that doctors opt for to know the exact root of the cause of these signs and symptoms of Alzheimer's.
If the patient visits a doctor who suspects him/her to have Alzheimer's disease, the doctor may refer the patient to Geriatricians, Geriatric Psychiatrists, or Neuropsychologists that will further the examination. That likely will include:
Physical Testing
During this testing, the doctor examines your reflexes, coordination between the patient's mind and body, hearing and sight senses, ability to do simple tasks as walking or reading, and many more. This is the first stage of testing and is generally the foundation of further complex tests.
Neuropsychological Testing
This is where the doctor will assess the patient's memory and other mental functions. During this test, the doctor can figure out timelines at which the symptoms may progress in the future. These tests provide additional details of the functioning and processing of your brain activities.
Brain imaging
This can be done with the help of MRI scans i.e. magnetic resonance imaging that uses radio waves and magnetic field to produce images of the brain. This method is effectively used to monitor brain shrinkage and to rule out other possibilities. Another way of brain imaging is through a Computerized Tomography or a CT Scan, that uses X-Ray technology to find tumors or any head injuries in the brains.
Of course, if you have questions don't wait a single moment. Know that the caring professionals at Manor Lake Assisted Living and Memory Care here in Canton are ready to address any need or concern.