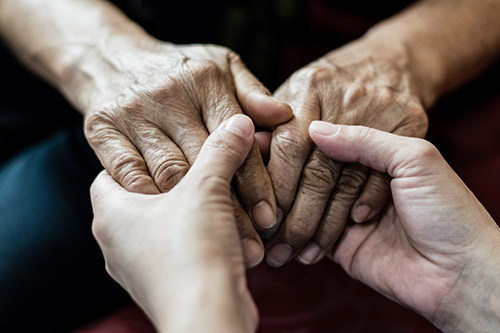 Getting the news that your parent, in-law, or spouse has dementia is devastating. There's no other way to put it. Hopefully this is the most sobering challenge of your lifetime. Here at Manor Lake Assisted Living and Memory Care here in Canton, we will be honored to help you every step along the way. Whether that help to you is direct in the form of you and your loved one joining our memory care community or by simply offering free education via this memory care blog, rest assured our hearts go out to you because very few can directly relate to what you are going through.
So, take one long and deep breath and make a commitment to yourself that you are going to remain calm and that you are going to get educated on the subject of memory care to the absolute best of your ability. For some of you reading this, that first deep breath comes now!
What are your loved one's immediate needs?
First of all, what are your parent's or relative's daily needs? If your loved one needs help with activities of daily living (ADL) then you'll need to find a facility that helps with bathing, dressing, and eating. If this is the case, then you'll want to talk with memory care communities across your area. Why do we recommend this? First, because you are researching one of the most meaningful investments of your life, that being entrusting others to full-time care of your loved one. Second, we are certain that the more you know about others, the more you will come to appreciate Manor Lake Assisted Living & Memory Care as your future care giver of choice.
Here are some questions to consider that will help determine the level of care your relative needs:
Does my relative wander, get lost, head toward exits frequently without telling anyone?
Can my relative walk independently or does he or she require a walker or wheelchair?
Does my relative require help eating?
Does my relative require help using the restroom?
Does my relative require help taking a shower?
Does my relative require help dressing?
Does my relative need 24/7 supervision?
Does my relative require treatments including radiation, chemotherapy, dialysis, or daily injections for diabetes or any other regular medical treatment?
How is Dementia Affecting Your Relative?
Sometimes seniors diagnosed with dementia can get angry, resist care or display other signs of aggression or distress. You'll want to ask the memory care communities under consideration how their staff reacts when residents with dementia occasionally get angry, resist care or show other signs of aggression or distress. You'll want a closer look at memory care communities that say their team redirects residents who show signs of anger or distress. It's important to find out the staff's reactions to your relative's anger or distress. Are they caring and considerate or are they numb or bothered? It's also key to know whether staff seems interested in getting to know your relative. Do they seem genuinely attentive and sincere? Or are they treating your relative like a number or like he or she doesn't matter? The type of staff you want around your loved one are those that are pleasant, well-trained, involved and understand that your relative is more than their condition or disease.
What Floorplan, Amenities and Features Can Your Relative Look Forward to?
You'll want to look for an easy-to-navigate but spacious facility that boasts plenty of common areas, 24×7 care team support, eye-catching courtyards, activity rooms, stunning private suites, attractive semi-private suites, and a gourmet meal plan with snacks in between. Ask about daily activities as there should be a mix of activities, therapeutic sessions that encourage movement, socialization, and healthy behaviors. There's no doubt you'll want vibrant memory care home where your loved one will thrive. You'll want to see a state-of-the-art facility that's in a league of its own. At Manor Lake Assisted Living & Memory Care, we offer premier home environment care in a loving family atmosphere for your loved one. We facilitate the ability of your loved one to continue living with dignity, respect, freedom, and choice. Our home environment enables seniors with Alzheimer's, Dementia, and other memory impairments to maintain the highest quality of life while providing peace of mind to their family and friends.