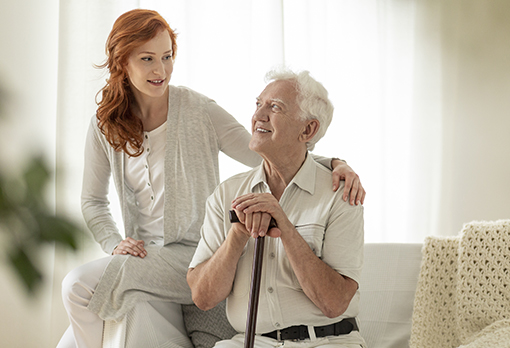 Sadly, professional Alzheimer's care often becomes the best option for a loved one suffering from Alzheimer's. It may seem like a tremendously difficult decision, but ultimately it can be the most compassionate option when your loved one requires constant attention and it overwhelms your ability to manage the entirety of your loved one's care needs. Rest assured that the Manor Lake Alzheimer's Care Community is well-equipped, staffed, trained, and uniquely qualified to care for our residents with dignity and respect. Choose your memory care community where you can pay visits regularly. An Alzheimer's care community must provide an atmosphere that helps your loved one's condition. Therefore, making the right choice is critical.
Know the difference between a nursing care community and Alzheimer's residential care communities. Alzheimer's care communities will cater to the condition of your loved one and their stage of disease. Nursing communities do not specialize in what you seek. A residential memory care community provides personal care assistance that includes washing and dressing along with food preparation. The caretakers are specially trained to care for people with Alzheimer's.
Before you finalize selecting an Alzheimer's care community, it's a good idea to pay a visit to each and every community that you are considering. Take note of the ambiance, the hygiene of the residents, the manner of the care takers, and just the overall look and feel of the community. The primary areas of concern in a professional care community are the rooms, the bathrooms, the care givers, the food, and the ease of access to medical facilities.
When you visit, watch the residents and gauge for yourself how well the residents are treated along with the quality of the facility and staff. The most important aspect is to check that the staff is respectful and attentive towards all residents. Alzheimer's residents must be treated with dignity and respect at all times.
Moving into a professional care community can be very stressful for both your loved one and the entire family. When you make this decision, we'll help you make sure that your loved one transitions as easily as possible.
For more information on memory care, contact Manor Lake BridgeMill.
Source Hive Health Media