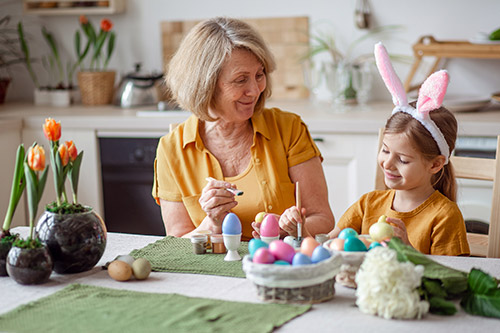 With the sun out shining bright and winter starting to loosen its grip, it's the best time to celebrate spring and Easter! Just like any other special occasion and holiday, it is possible to keep up your favorite Easter traditions here in our Canton senior living and memory care community. If you have a loved one who lives in a retirement community, remember to extend the special traditions to include them as well. Spending time with your loved ones is the best part of celebrating the holidays and everyone appreciates feeling loved. Read on to learn more about how to celebrate this Easter with your senior assisted living or memory care loved one.
Join in Community Activities
Our community does a fantastic job of planning holiday events and activities for our residents. Check with our activity director to see what activities are available. Invite your family or friends to share in the event or have a meal together.
Continue An Old Tradition
Maybe you used to color Easter eggs, bake cookies, or volunteer at a local charity every year. There is no reason why you can't continue these old traditions. Keep up the treasured tradition so you can feel at home.
Create A New Tradition
A new living situation is a perfect opportunity to create new Easter traditions with your neighbors, friends, and loved ones. You can come up with some easy and fun activities to do together such as dyeing Easter eggs or decorating Easter baskets. Gather to share memories while making new ones.
Get Outside
Take the opportunity to get outdoors for a nice walk. Go for a stroll with a family member or friend and enjoy the beautiful weather and promise of the new season.
Focus on Faith
For many people of faith, Easter is one of the most important holidays of the year. Take your senior loved on with you to Easter service. This can in fact be a huge gesture to them.
Experience Manor Lake First-Hand
Manor Lake Assisted Living and Memory Care is a world-class living and care experience. You and your cherished family member will superb living, medical, and social opportunities. Our residents wake up feeling excited for the new day. They can take part in a full schedule of fun activities, and they also get to use the excellent amenities. Here is where you can live a fulfilling lifestyle. Feel free to contact us for more information.