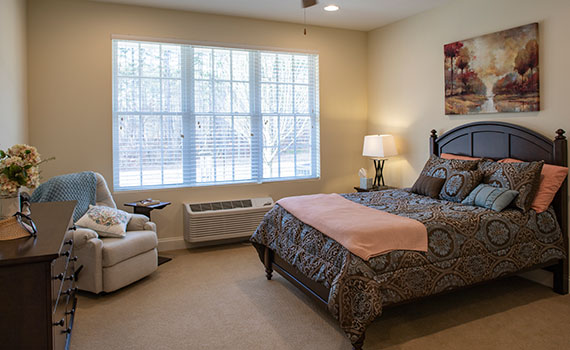 The environment that memory care patients reside makes all the difference to both the patient and their family. Many dementia care specialists suggest that seniors suffering from Alzheimer's disease and other types of dementia do better in very particular types of settings. When grading prospective memory care communities, look for the following characteristics common amongst the best:
A senior community that encourage socializing but also provides privacy as necessary.
A place that allows personalizing of units or living spaces. You can mimic the decorations and arrangement from her old house so the senior resident would feel at home to her new living space.
Floor plan design with square-shaped corridors rather than straight hallways. A study in several group living facilities reveals dementia patients have experience greater spatial orientation in facilities with aforementioned floor plan layout.
Spaces that are convenient to navigate with visible signs that can guide them locate what they need.
Has exit diversions or door disguise which provides additional security to avoid patient wandering while providing a homey atmosphere. This also provides relief to AD patients who gets frustrated and anxious when they see a door they cannot access.
High contrast flooring can appear uneven to seniors because of their impaired vision. This can cause agitation and unsteadiness which increases their risk for falls and injury. Thus, consider the place with low-contrast flooring.
Uses adjustable lighting. Providing white light and blue light has a good effect for those with AD. These two lighting methods are noted to improve nighttime sleep.
An environment that offers the above items can help minimize aggression and anxiety to dementia patients. For more information about Alzheimer's and dementia care, contact Manor Lake BridgeMill.