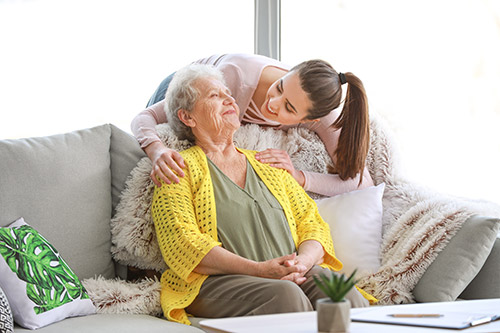 We realize that the high percentage of our Manor Lake Assisted Living & Memory Care blog know that we invest time and energy as a service to our community. We understand that all of you providing at-home senior assisted living care and/or memory care services to your loved one is a labor of love that most simply can't begin to understand. To ease your burden in any way refreshes us in knowing that our seniors, the ones who've provided for us all through the years, enjoy loving reward for all that they have done.
Today we're going to focus on just some very simple support tips that we trust will enrich both you and the loved ones that you care for.
According to the United States Census Bureau, seniors are on track to outnumber children for the first time in U.S. history in coming years. As the country's older population continues to increase in number, the generation coming behind them—their adult children—are often taking on a role as supporter and caregiver.
As your loved one ages, he or she may not always let you know when help is needed. That's why it's important to pay attention to signs that his or her level of independence isn't what it used to be––such as problems completing daily tasks, bills piling up, or changes in behavior.
While at times it can be difficult to know how to best support your aging parent, the good news is there are more resources and care options available than ever before, like us here at Manor Lake Assisted Living and Memory Care here in Canton. Use these four tips to make sure you're ready to provide your loved one with the support he or she needs.
Get Everyone at the Table
According to a study by Merrill Lynch and Age Wave, nearly three out of four adult children have not had a detailed conversation with their aging parent about long-term care, living arrangements, or net worth. However, these discussions are invaluable to helping you support your loved one. Find a time to sit down with your parent and siblings so that you're all on the same page about future needs. By getting everyone involved, it will make transitions smoother when additional long-term care is needed.
Advocate for Your Loved One's Health
As your parent ages, it's important for you to be an advocate for his or her health. Support your loved one by keeping up with health conditions, doctor's appointments, medications, and changes in behavior. Communicate often with family members or others who know your parent well to take note of his or her overall well-being. Be sure your parent has completed a Living Will, Power of Attorney, and Health Care Power of Attorney so there is a clear designee if your loved one becomes unable to make decisions due to dementia, behavioral conditions, or other medical concerns.
Address Financial Concerns Early
Finances are often one of the most difficult topics for adult children to discuss with an aging parent. However, it's essential to have a full financial picture before making any long-term care decisions. Initially, the only support needed may be smaller tasks like helping make sure the bills are paid on time, reviewing accounts, or going to a meeting with a financial planner. By addressing finances early, you'll be prepared to support your loved one later and make care decisions that fit his or her financial situation.
Ask How You Can Help
Sometimes supporting your aging parent is as simple as routinely asking how you can help. If you notice your parent has been complaining about a new ache or pain, ask if you can help by taking your loved one to his or her next doctor's appointment. If your parent is considering an assisted living community, ask if you can help by going along on a tour. If he or she has questions about a financial question, ask if you can help find the answer. By tackling concerns together, you'll continue to foster a relationship based on open communication and support.
Manor Lake Assisted Living & Memory Care here in Canton offers a wide range of care options that can help alleviate some of the stress, anxiety, and fatigue that come with caregiving on one's own. We understand that taking care of aging loved ones can progress from slightly challenging to completely overwhelming in a matter of days, but we are here to support your family every step of the way. We offer senior assisted living and professional memory care services here in Canton and we will work with you to determine what is right for you and your loved ones.