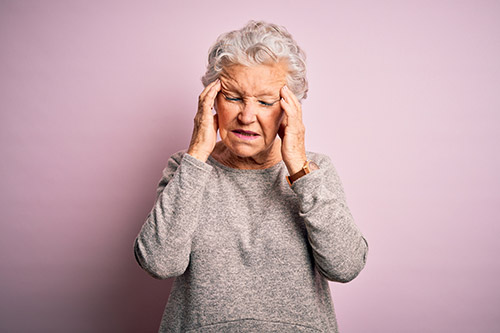 For elderly and seniors, the month of April is national "Stress Awareness Month" and a good time to take stock of your mental health. Well, allow us to customize that introduction if you may. For all of us, the month of April is national "Stress Awareness Month". We talking to you all of you who could use at-home assisted living advice and/or at-home memory care service advice. Care stress is real, unavoidable, but can be successfully managed. Recall that every time you fly, the flight attendant briefs you and tells you to place the oxygen mask on yourself first before assisting others? To maximize the effectiveness of your caring love, you must take care of yourself first.
A person's mental health centers around their emotional, psychological, and social well-being. Elderly people and seniors are like everyone else whose mental health affects how they feel, act, think, make decisions, and interact with other people. Having good mental health is vital to a person's good overall health and enjoyment of their life.
The World Health Organization (WHO) estimates that about 15% of all adults over age 60 have a mental health problem. Those numbers may have increased during the COVID-19 pandemic, health experts say. Experts identify several common mental health issues for the elderly and senior population. These include:
Depression: Seniors and elderly who are depressed may feel consistently "low." This can happen to caregivers as well. Enjoyment in life is hard for them. They may struggle with guilt, anger, shame, emptiness, hopelessness, and other similar feelings. It's important to recognize chronic depression. If you or someone you know is thinking about suicide, call the National Suicide Prevention Lifeline at 1-800-273-8255.
Post-traumatic stress disorder (PTSD): Many people in the senior and elderly population have experienced loss, a dangerous event, and even shock. They may still struggle with their feelings around those events and be triggered by something that helps them recall those moments. Even in the safe and loving environment here at Canton's Manor Lake Assisted Living & Memory Care, your and our loved one's can struggle with PTSD. We can help you deal with that.
Bipolar disorder: Symptoms include changes in a person's mood and behavior. They may have manic episodes, which could be felling really good or depressive episodes in which they're overcome by sadness, helplessness, or a general "down" feeling. They may struggle to do daily activities.
Addiction: It might be hard for you at-home caregivers to diagnose addiction or addictive behaviors. We are trained to identify signs of addiction and how to professionally respond. However, addiction is often overlooked by friends, family, or caregivers.
Anxiety disorders: These are ongoing continuous struggles with anxiety that may grow worse over time. For seniors and the elderly, common forms of anxiety include social anxiety disorder, depression, panic disorder, and obsessive-compulsive disorder.
Dementia: Forms of dementia can cause memory deterioration and lead to other symptoms. These include personality changes, difficulty communicating, erratic behavior, and personality changes. Dementia can have a detrimental effect on a person's quality of life. We are highly trained and experienced in serving those with dementia (and their families too).
By getting professional help, seniors and the elderly can treat and manage these conditions. They're nothing to be ashamed of and none of them are considered to be "normal" parts of aging. Contact us at Canton's Manor Lake Assisted Living & Memory Care anytime!