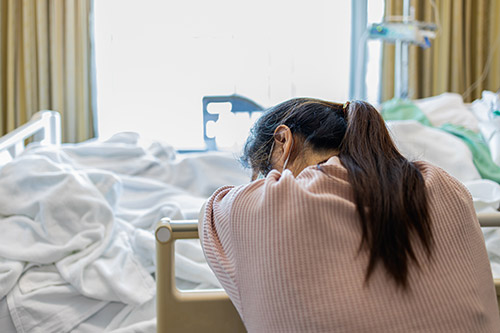 By now, most of you know that we manage our Manor Lake Assisted Living & Memory Care blog for the benefit of all of you at home in the Canton area caring for your loved one with senior assisted living needs and/or memory care challenges. We do this because you are neighbors and friends, but most importantly, because we view you as heroes. As professional care givers, we know the challenges that you face. And we want to do our part to help. Today we're going to focus on the very real challenge of pandemic-related caregiver fatigue.
What is Pandemic Fatigue for Senior Caregivers?
Caring for our loved ones as they age is never easy. There are tons of factors that can make it taxing physically, mentally, financially, and more for both the caregiver and the one receiving care. This has always been the case, but with the emergence of COVID-19, things have only gotten more difficult. Many of us, especially caregivers for older adults, are feeling a real sense of burnout due to Coronavirus, also referred to as pandemic fatigue. Today we will be covering pandemic fatigue in more detail, recommending coping strategies, and discussing care options.
When we began seeing increased COVID-19 rates in the United States, many people stayed home as much as possible to slow the spread and protect those they live with, especially those in vulnerable populations like older adults. Seven months later, it often feels less urgent to stay home, despite higher rates of COVID-19 than ever in the U.S. People are coping with the loss of their loved ones, jobs, or housing, and many live in a constant state of anxiety about getting sick. One group of people that are hit especially hard by Coronavirus spikes are caregivers of older adults, as they risk their lives, and the lives of their aging loved ones, every time they have to leave the home while COVID-19 rages on. Many of these caregivers still have to go to work to support their own kids, and relief has been hard to come by in recent months.
The combination of all of these fears, frustrations, and losses contribute to what we now refer to as pandemic fatigue. Pandemic fatigue can also be thought of as burnout from being pulled in all different directions while also feeling isolated from the outside world. Pandemic fatigue can put our mental and physical health at risk, affecting the quality of our work, caregiving, and lifestyle.
How Can I Cope with Pandemic Fatigue?
Fortunately, there are steps you can take to overcome pandemic fatigue, empowering you to stay as relaxed, calm, and collected as possible.
Stay Connected
Letter writing and virtual hangouts are ways to stay connected with loved ones.
One major reason why pandemic fatigue has grabbed a hold of so many of us is the lingering feeling of isolation and loneliness. We may not be able to host or attend gatherings like many of us used to, but that doesn't mean we cannot stay connected with friends and family members.
Staying connected not only helps us preserve our mental health, talking to friends and family can help us express built up feelings and work through our struggles. Even if you don't explicitly talk about your problems, feeling connected and supported is just as important too.
Try the following to get in touch with friends and family during the pandemic:
Going for a socially distanced hike or nature walk with a loved one
Setting up recurring virtual hangouts or dates
Writing letters or sending cards to people to tell them you're thinking of them
Hosting a socially distant outdoor get together, like a bonfire or takeout meal
Take Care of Yourself
Maintain a balanced diet with plenty of fruits, vegetables, and whole grains.
When we put so much time and effort into taking care of others or simply trying to make ends meet, it can feel impossible to take care of ourselves and our needs, too. Setting aside just a few minutes of the day to dedicate to yourself can make a huge difference in your mental state. If you're feeling burned out, it will only make it harder to provide quality care to your loved one or maintain a household.
Try incorporating more of the following to take care of yourself:
Ensuring you get eight hours of sleep whenever possible
Exercising regularly or taking small, frequent physical activity breaks throughout the day
Consuming a balanced diet with enough fruits, vegetables, and whole grains
Sitting in intentional silence for a few minutes or utilizing a meditation app
Listening to your favorite music while doing chores or when you feel overwhelmed
Limiting your social media intake by deleting addictive apps, setting a social media timer, or logging out after each visit
Most caregivers go through their entire days without rest or doing things they enjoy, and this can lead to burnout faster than anything else. Self-care can look a bit different for everyone but doing enough of it pays off when it comes to your physical and mental health, as well as your caregiving ability.
Get Help
Many are feeling stuck and overwhelmed to the point where they feel like they are drowning in their responsibilities as a caregiver, especially with pandemic fatigue thrown in the mix. If you feel this way, see if you can find a local or virtual support group or if you have access to counseling through your workplace or insurance.
How We Can Help
Manor Lake Assisted Living & Memory Care here in Canton offers a wide range of care options that can help alleviate some of the stress, anxiety, and fatigue that come with caregiving on one's own. We understand that taking care of aging loved ones can progress from slightly challenging to completely overwhelming in a matter of days, but we are here to support your family every step of the way. We offer senior assisted living and professional memory care services here in Canton and we will work with you to determine what is right for you and your loved ones.
Now may be the time to have that discussion. Contact us today.